1. AT&T internet self installation guide Set up
Note:·  If you have traditional dial tone phone service, install single-port filters in wall jacks that have devices such as phones, fax machines, satellite receivers, or modems. The dual-port filter is used when you want to connect a phone or other piece of equipment, such as a fax machine, to the same wall jack as your Wi-Fi Gateway.
A. Connect the green data cable from the Wi-Fi Gateway's DSL Broadband port to your wall jack.
B. Connect the yellow Ethernet cable from one of the Wi-Fi Gateway's Ethernet ports to your computer.
C. Plug the power cord into the Wi-Fi Gateway and an electrical outlet.
Below is a completed setup. Your connections may vary
2. Power up
Your Wi-Fi Gateway is now powering up. Wait up to five minutes for the Broadband and Service indicator lights to turn solid green.
During this time, do not unplug the green data cable, as this can permanently damage the Wi-Fi Gateway and significantly delay your Service Activation.
If the Broadband and Service lights do not turn solid green or continue to blink after 5 minutes, see "Having Trouble?" on the back of this guide.
3. Registration & activation
Customers who have already completed the U-verse online registration:
· Welcome to U-verse.
· Activation of your high-speed Internet service will be completed automatically.
· The service activation may take a few minutes to complete.
· Be sure to open a browser, go to a Web site, and check that you can access it
Customers who have NOT completed
the U-verse online registration:
· Open your Internet browser (e.g., Internet Explorer, Safari, etc.).
· The online registration process will start automatically. If it doesn't, enter att.net/uverse into your address bar.
· Enter your Account Number (if requested) and Passcode.
1. Your Account Number is available on your order
confirmation email or letter.
2. Your Passcode is the four-digit number you selected
when you placed your order.
· Follow the online instructions to complete your registration
and activate your Internet service.
· Upon successful registration, you will see the following:
Congratulations. Your AT&T U-verse service
4. Go Wi-Fi
Write down the Wi-Fi Network Name (SSID) and Wi-Fi Password (Wireless Network Key) to configure additional Wi-Fi devices. This information is on the side of your Wi-Fi Gateway. The Wi-Fi Network Name consists of "ATT" plus the last three characters of the Wi-Fi Gateway's serial number. Be sure to record this information in the form below. Now configure your Wi-Fi network:
· Go to your computer's "Wireless Network Settings" and refresh the network list.
· Select your Wi-Fi Network Name (SSID) from the list. You may need to scroll through the list to find your Wi-Fi Network Name.
· Enter the 10-character Wi-Fi Password (Wireless Network Key) in the Password field to connect to your network.
Congratulations! You should now be connected to the Internet via Wi-Fi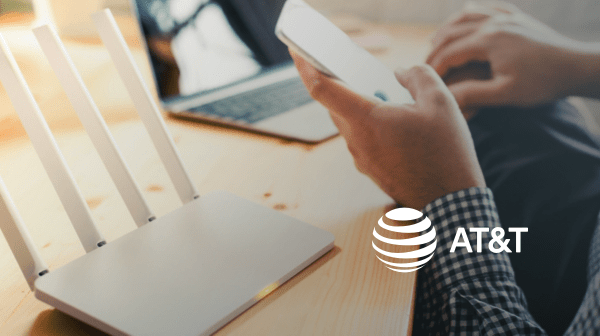 Looking for new internet and considering AT&T ? Already decided on AT&T service and wondering what the next step is? Either way, you've probably got some questions about how to get your service up and running.
In this guide, we'll take a look at the nitty-gritty of the AT&T installation process, how to decide if self-installation is right for you, and whether you should rent or buy your equipment. And if you already know what info you're looking for, use the quick links below to jump right to it.
Self-installation AT&T Internet Guide
If you've decided to self-install your internet service, the first step is ordering an installation kit.
How to order an AT&T self-installation kit
If you want to install AT&T Internet yourself, all you have to do is request a self-installation kit when you order your internet service. The kit comes free with your service.
If you've already signed up for AT&T Internet but didn't request a self-installation kit, you can contact AT&T customer service to have one mailed to you.
What's in your AT&T installation kit?
The AT&T self-installation kit includes everything you need to get going:
AT&T Wi-Fi Gateway (this is an AT&T modem and AT&T router in one device)
Green data cable
Yellow Ethernet cable
Gray cable for AT&T phone service
Power cord
Detailed instructions
Self-installing your AT&T Internet service guide
Once you're sure nothing's missing, you can get started with the installation. It's easier than you might think! Here's how to set up your AT&T connection:
Connect one end of the green data cable to the green broadband port on your gateway.
Connect the other end to the AT&T Broadband jack in your wall.
Connect the black power cord to the back of your gateway, and plug it into an electrical outlet.
Wait for the AT&T Gateway to power up. This can take up to 10 minutes. You'll know it's done when the broadband and service lights are solid green.
To set up AT&T home Wi-Fi access, you'll need to log in to your computer, select the network, and enter the password found on the yellow sticker on your gateway.
For Ethernet access, connect the yellow Ethernet cable to the yellow jack on the gateway and plug it into your computer.
That's it! You should now be online with your new AT&T Internet service. If you ran into any issues, contact AT&T customer support with the information we provided above.
Looking for a modem/router?
We'll help you find one. If you're not planning on using the equipment provided by AT&T, here are the recommendations from our experts. Just make sure the one you choose is compatible with AT&T before you commit:
Best Modem/Router Combos
Best Long-Range Routers
Best Gigabit Modems
Best Gigabit Routers
Activating your AT&T Internet service
Activating your service is just as simple as setting up your AT&T equipment. Once the gateway is set up, just open your web browser to begin the registration process. If registration doesn't start automatically, you can also go to  att.com/internet to get your service registered. (Your new router will trigger the site for registration the first time you visit.)
Pro installation vs. self-installation
When you're signing up for your AT&T Internet service, you'll be given a choice: you can either have a professional set up your service for you, or you can order a self-install kit and handle things yourself. There are pros and cons to each method, so let's take a look.
Installation tech does all the work and handles any issues that arise
No technical knowledge required
Installation fee
Appointment times that may require you to adjust your schedule
No installation window—can be done whenever
No extra fees
Troubleshoot any issues yourself or call the support line
Need some basic technical knowledge
Deciding between the two is fairly easy. Just ask yourself this: if something comes up, are you okay troubleshooting it yourself? It's not a complicated process, but occasionally things can go wrong. And with no tech there to diagnose the issue, you'll have to either handle it yourself or have someone come out to fix it.
AT&T customer support
For the do-it-yourself folks, there's a handy AT&T support site for when you run into trouble. You can also call 1-800-288-2020 any time for AT&T customer service.
Pro install AT&T Internet
Pro installation breakdown
| Cost | Appointment window |
| --- | --- |
| $99 | ~2 hrs. |
Why it's good
Letting an AT&T technician install your equipment and activate your service has a couple of advantages. For one, you don't have to worry about anything except being home at the scheduled time—the tech will handle the rest. And if something goes wrong during the installation, they can troubleshoot the problem and take care of it right then and there.
What to expect
Appointment windows are generally two hours, which means you'll need to be home for that time. You'll get an appointment date and time when you order your service. You can reschedule that appointment up to 48 hours beforehand using AT&T's online order manager. Keep in mind that depending on what work needs to be done, appointments can take up to four hours (if you need lines installed, for example).
How to prepare
AT&T offers a handy checklist for preparing for your appointment. Here are the basics:
Someone over 18 needs to be present.
Set aside about 4 hours for the installation (this time can vary depending on what needs to be done and if anything goes wrong).
Move any furniture-blocking phone or computer connections before the tech gets there.
Have a payment method on hand that can be used for your AT&T service.
Equipment: renting vs. buying
Simpler tech support
Guaranteed compatibility
No additional cost—equipment is included in your package price
May be missing some advanced features
Choose equipment based on specific needs
Keep your equipment even if you cancel AT&T service
Pay no monthly fees
Higher price up front
No AT&T tech support for third-party equipment
Renting
As you'd expect, AT&T provides all the gear you need to use your internet service. The all-in-one gateway is a nice touch—no need for a separate modem and router. The best part about AT&T's equipment, though, is that there's no additional cost. The AT&T Gateway is included in your package price. This is a nice touch, especially since many Internet Service Providers (ISPs) charge an extra monthly fee for the necessary equipment.
Buying
If you don't want to use AT&T's Gateway, you have the option of supplying your own. Since AT&T provides its equipment at no charge, you can use the gateway as your modem and just add your own wireless router rather than a router and modem, saving you some money. The main reason to bring your own router is if you have a special circumstance, like a particularly large home that requires more range. That said, a mesh network might be a better option.
Our verdict
Most people should stick to AT&T's equipment, unless they need something with more range or advanced features.
Enjoy your AT&T service
Whether you choose self-installation or decide to let the pros handle it, the process of setting up your AT&T Internet service is about as painless as it gets. And once it's done, you get to enjoy the benefits of a trusted ISP with wide availability and excellent speeds.